Preservation, restoration and long-term conservation treatments
We offer a comprehensive service from first analyzing the damage to finshing all restorative work to the best of our abilities. These services are available for:
Graphic art
Drawings, watercolours, gouache, pastels, prints, posters
Book
Leather, parchment and cloth bindings, Manuscripts, incunables, early prints, cimelium, modern records, sheet music, children's books, artist's books, catalogues
Object-art, 3D
Scrolls, screens, sculptures and objects made of paper, cardboard or papier mâché, globes
Archival materials
Records made of paper and parchment, seals, files, maps and architectural drawings
Large and small formats
Museum-quality matting and framing to deter future damage or deterioration
Archival storage to protect and preserve any kind of object
Scientific work and consultancy
Exploring the current condition of a piece and assessing the damages
Drawing up of a workplan for the restorative works
Full documentation of our work
Services offered on-site
Supervision of exhibitions and art collections (assessing the current condition, accompanying transports, adjusting and monitoring conservatory-appropriate exhibition- as well as storage conditions)
Emergency aid in case of disaster (helping with recovering and giving a first-aid treatment to objects after fire, water damage or other disaster, assessing the damages and drawing up a workplan for full restorative work)
Assessment and conservation of especially sensitive or immobile objects on-site
History
After several years of employment at the centre for restoration in Düsseldorf, Gabriele Emonts-Holley founded the studio for paper- and book con-servation. The facilities were shared with the newly founded studio for the conservation of paintings by Brüning & Schubert. The substantial working space of an old safe factory offered enough space for both labs, which worked on several (at times very large) restorative projects.
Katrin Bode joined the studio for paper- and book conservation in 1998, which resulted also in the change of the legal structure to a GbR. The expansion showed that an extension of the working space in the not too distant future might be necessary.
Sabine Güttler joined the studio in 2010, which made the permanent work-force grow to three members. At the same time, more working space was on offer located within the wider facilities.
Since August 2011 the studio's home is now at Neanderstrasse 31a, where a complete refurbishment of the new working space has resulted in an area of about 300 m2 for us. This move has enabled us to provide more extensive and more efficient graphic design-, book- and archive- conservative work which adheres to modern standards.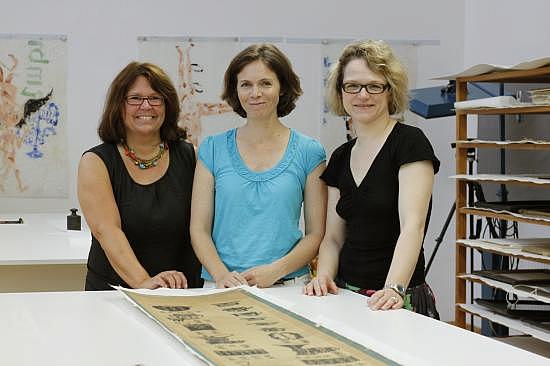 About us
Gabriele Emonts-Holley
Apprenticeship as a bookbinder
Several years employment as the leading paper conservator at the Centre for Conservation and Restoration in Düsseldorf
Participation and accrediation at several skill enhancement seminars
Founding of Ateliers für Papierrestaurierung in Ratingen in 1992
Katrin Bode
Voluntary work at numerous workshops for restoration (e.g. Hauptstaatsarchiv Düsseldorf, Museum Folkwang Essen, Staatsarchiv Bern, City Museum Plymouth)
Graduated with Diploma in "Restoration and Conservation of records, graphic art and book illumination", University of Applied Sciences Cologne in 1998
1998 Participation in the conservation studio in Ratingen
Sabine Güttler
Voluntary work at numerous workshops for restoration (e.g. Westfälisches Archivamt Münster, Herzogin Anna Amalia-Bibliothek Weimar, Deutsches Historisches Museum Berlin)
Graduated with Diploma in "Restoration and Conservation of records, graphic art and book illustration", University of Applied Sciences Cologne
Worked as freelanced conservator
2007-2010 Part-time employment at LVR (regional authority) in Brauweiler as conservator in a federal state wide initiative for the conservation of archival and library documents
2010 Participation in the conservation studio in Ratingen
Membership in the following professional institutions:
VdR (Federation of Conservators) e.V.
IADA (International Association of Book and Paper Conservators)